The Google Page Experience Update 2021 is about to be released and it may impact your website in the popular search engines results. This will be a Google algorithm update which is heavy focused on mobile users and page loading times.
in a recent study Google reported that average time spent on web pages by mobile users was between 4-8 seconds. Unoptimized websites with pages taking longer than 8 seconds on mobile devices will soon have problems with ranking in top places.
Many websites have already reported a loss in organic search engine traffic since around February and April 2021. It seems websites with large graphics and scripts may lose position to simpler and fast loading websites.
Out of interest we wanted to test and see how well we ranked on a keyword if we optimised a basic WordPress website. The goal was to get a green light on the new Google specifications in PageSpeed Insights.
Test Case - 0333302105.co.za
For this test we registered a new domain name (0333302105.co.za) which did not have the keyword in the domain name or permalink/slug, only numbers. The web hosting uses the latest recommended php version 7.4 with the default cPanel Auto SSL certificate installed.
Installed the latest version of WordPress with the default 2021 theme and very minimum plugins to keep it light loading with no heavy graphics or images.
Our landing page was targeting a specific keyword which we included in the correct structure with headings and paragraphs with 300-500 words on the page.
Next we submitted the website and sitemap to Google Search console and created a Google Analytics account and linked the two together.
For website testing we used the suggest PageSpeed Insights on the url to find errors and make any necessary SEO changes to comply.
PageSpeed Insights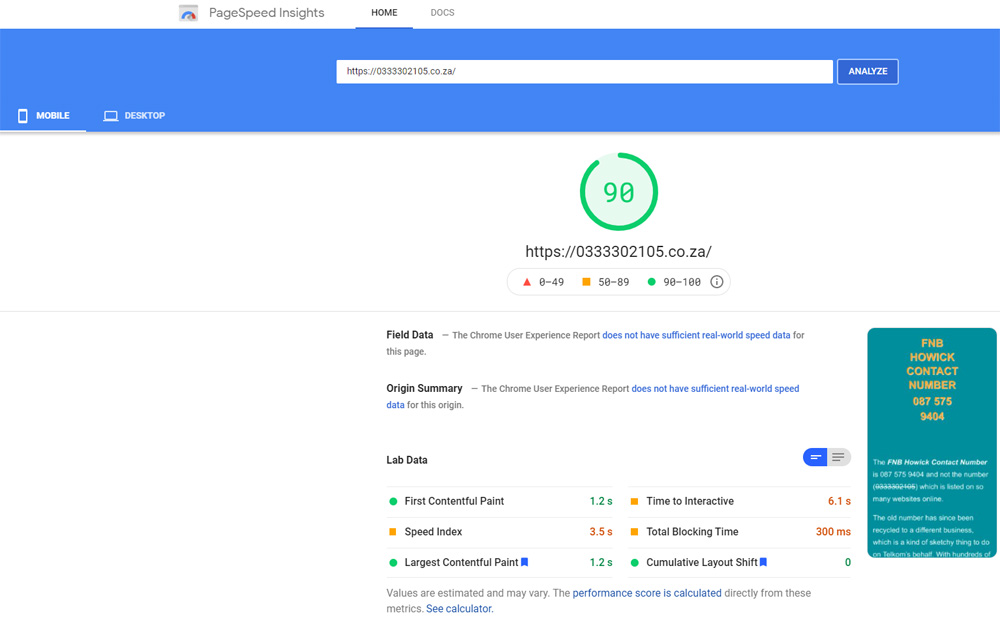 Our results got a green light on mobile, it's very difficult to achieve top score.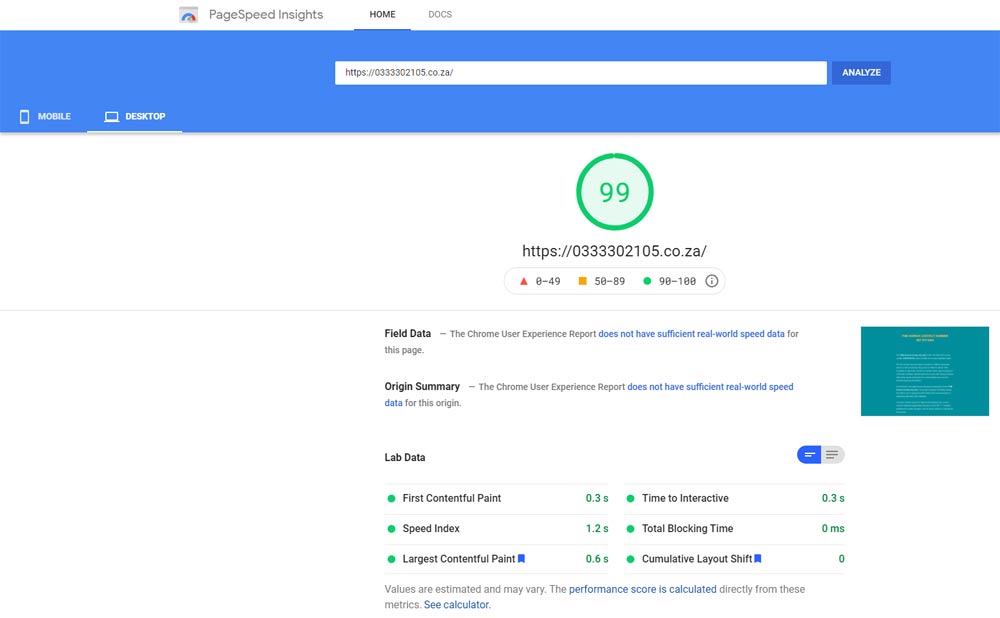 Desktop passed with flying colours with score of 99.
Search Results Check
Within a week our test website was ranking on first page of Google search results in 10th place for the focused keyword we wanted to rank for.
An update will be posted here on the results once more time has passed, we have three other test websites that have similar setup.
Friday, April 30, 2021